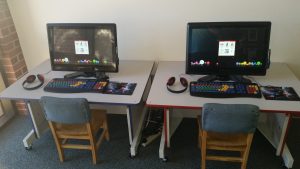 We have purchased two new Children's Literacy Computers from Digital Dimensions with the help of the Schmalzried funds.
The computers are geared towards children ages 7 and under. They offer fun and educational games, learning fundamentals, and literacy components that will give children a jump start in learning.
The computers are equipped with touch screens, stylus pens, keyboards, mice, and headphones. They are called "All-in-One Machines" which means the hard drive and CD drives are both built into the machine making it easier to use and maintain without having a separate PC.
Literacy is an important key to a child's education and the more resources that can be acquired to further that need is an opportunity for our library to reach out to our community and help broaden those skills.