The Slaner Multi-Purpose Room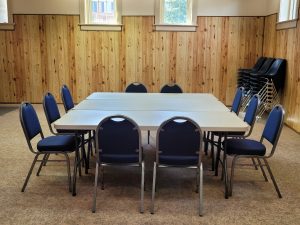 Guidelines
Reservation requests are filled on a first-come, first-served basis.
Library-related functions will have priority at all times.
Usage of the meeting room is free of charge during the hours the library is open.
Who May Use the Room
The Slaner Multi-Purpose Room in the Hobart Public Library may be reserved for use by educational, civic, cultural and governmental programs when no admission charge is made.
Exceptions may be made for meetings sponsored by the library or an approved non-profit educational group for short-term classes involving small fees. Purely social functions do not fall within the realm of library responsibility.
After Library Hours Use
Usage of the meeting room when the library is closed requires a $15.00 charge to be paid in advance. Said fee will be given to the City of Hobart for utilities. A Meeting Room Reservation Application must be filled out prior to the meeting. Please download the application below and turn it in when you arrive.